LAV III
LAV III

Vehicle Info

 Operators 
Canadian Army
 Maps Available 
Al Basrah, Fallujah, Fool's Road, Goose Bay, Gorodok, Kamdesh Highlands, Kohat Toi, Kokan, Lashkar Valley, Manic, Mestia, Sumari Bala, Tallil, Yehorivka
The LAV III is a vehicle featured in Squad. It was introduced in the B21 update for the Canadian Army.
(To be added)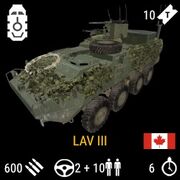 The LAV III functions as the primary APC of the Canadian Army. In both looks and function, it is very similar, if not equal to the M1126 APC of the US Army.
The LAV III M2A1 RWS. It is armed with the exact same .50 caliber M2A1 CROWS as the M1126 and M-ATV CROWS, with an additional pintle-mounted C6 general purpose machine gun for the third seat.
The LAV III C6 RWS. Instead of the M2A1 .50 caliber heavy machine gun, this variant has a C6 CROWS general purpose machine gun with 750 rounds along with the pintle-mounted C6 general purpose machine gun for the third seat.

The C6 machine guns for the third seats only have a limited traverse towards the front of the vehicle, while the CROWS machine guns can rotate 360 degrees. They share the same UI as the one used by the M1126 APCs and M-ATV CROWS. As stated, the LAV III functions almost in the exact same way as the M1126, just with an additional gunner's seat. This can give the LAV III an advantage when fighting enemy infantry, picking off unarmored vehicles like trucks, and even popping the tires of wheeled vehicles. The second gunner is exposed however, and only has a limited frontal traverse. And as with most machine guns, the LAV III's machine guns can overheat with sustained fire. It is therefore a good idea to fire the guns in bursts to always keep them cool.
| Weapon | Model | Caliber | Basic Load | Rounds |
| --- | --- | --- | --- | --- |
| Main Armament | M2A1 Heavy Machine Gun | .50 BMG (12.7×99mm NATO) | | 1x400rnds. |
| Secondary Armament | C6 Mounted Machine Gun | 7.62x51mm | | 10x250rnds. |
| Countermeasure | Smoke Launcher | 40 mm | | 2 |
| Weapon | Model | Caliber | Basic Load | Rounds |
| --- | --- | --- | --- | --- |
| Main Armament | C6A1 RWS | 7.62x51mm | | 1x750rnds. |
| Secondary Armament | C6 Mounted Machine Gun | 7.62x51mm | | 10x250rnds. |
| Countermeasure | Smoke Launcher | 40 mm | | 2 |