TAPV
The Textron TAPV is a light attack vehicle in Squad used by the Canadian Army.
(To be added)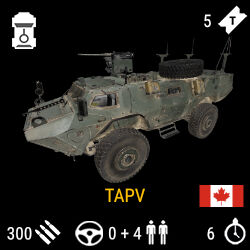 The TAPV is armed with a remotely operated M2A1 heavy machine gun with the same UI and zoom levels as the ones found on the M-ATV CROWS, M1126 APC and M1A2 main battle tank. Since it is remotely operated, the gunner is not exposed to enemy fire. The M2A1 carries 400 rounds.
It functions as the Canadian Army's primary light attack/recon vehicle, resistant to small arms fire and capable of fast attacks, recon, and infantry support. It can carry 5 men, similar to the M-ATV.